Many practitioners have found OBGYN Medical Billing and Coding to be tough as a result of CPT code revisions and the advent of ICD-10. In general, each specialty has its own method for categorizing the patient's symptoms. OBGYN-specific ICD-10 codes have minimal use in any other medical specialty. Given the importance of women's health, these codes are unlikely to arise in a cardiology office or an emergency department. There are several ICD-10 codes that cover a wide range of specializations. OBGYN Medical Billing, on the other hand, is distinct because of the common ICD-10 codes that are relevant to the physician's practice.
Medical Law Amendments
The American healthcare system is undergoing change. The Patient Protection and Affordable Care Act (ACA) was passed into law in 2010, but not all of its provisions were put into effect right once. There was considerable confusion because some of the ACA's provisions were not expected to take effect until 2014 while others weren't supposed to until 2020. Strong opposition has resulted in the cancellation or replacement of many parts of the law. Additionally, the current administration issued certain executive orders ordering adjustments. Regardless of the political atmosphere, medical billing professionals expect some standards to remain in place, while others are completely up for grabs.
Benefits OF Partnering with NEO MD OBGYN Medical Billing Services
The benefit of partnering with us is that we are a one-stop shop medical billing company that performs the following:
Revenue Cycle Management: We gather all patient data to process insurance claims and calculate copays and unpaid bill balances.
Leverage real-time performance analytics
Follow-up services for collecting accounts receivable
MACRA and MIPS reporting
Find and plug revenue leaks
Services for clinical documentation to raise the standard of EMRs and other documents
Our billing team assists you in enrolling and receiving credentialing for essential services like Medicare, Medicaid, CAQH registration, and EFT/ERA enrollment.
CPC, CPMSM, and CPCS certified.
Commonly utilized OBGYN Medical Billing, ICD 10 Codes
Z01.419: Routine Gynecological Examination with No Abnormal Results
This ICD-10 code represents a patient's normal OB/GYN appointment. Women between the ages of 21 and 29 should see their gynecologist at least once a year, according to the majority of industry specialists. At the same time, women 65 and older are exempt from such tests. Second, women between the ages of 35 and 65 who have had negative Pap test results only need to get a fresh test every five years.
Z12.31: Screening Mammogram for Breast Cancer Malignant Neoplasm
Regular tests are critical since one in every eight US women, or around 12.4%, may develop invasive breast cancer over their lifetime. Most OB/GYNs include these exams as part of routine visits.
N80.9: Endometriosis Unspecified
Endometriosis stigma has recently been a hot subject, with many medical practitioners and commercial initiatives focusing on educating women about the illness and encouraging them to speak out. Doctors may provide counseling and pain control to patients with this diagnosis.
Z34.01: First-trimester encounter for supervision of first pregnancy
This code indicates a patient who visited their gynecologist's office during the first trimester of pregnancy for a checkup.
099.011: First-trimester anemia complicates pregnancy
Anemia during pregnancy is becoming more common, especially among women who already had it before becoming pregnant. The three types of anemia linked with pregnancy are iron deficiency anemia, folate deficiency anemia, and vitamin B12 deficiency. A patient's physician can use blood testing to establish which version she has and then propose therapy.
Some OB/GYN care treatments are either unneeded or very burdensome for certain individuals. Because these treatments complicate OBGYN Medical Billing, the majority of patients and providers believe they should not be included in the Global Package.
Z30.018: Appointment for the initial prescription of another type of contraception.
Right now, there are various different birth control methods on the market. The first code refers to an IUD that requires a medical expert to install.  Traditional methods of birth control often involve pills and injections, which may be administered during a visit and acquired as required.
N97.9: Female infertility of unknown cause
10% of women between the ages of 15 and 44 have difficulty conceiving or maintaining a pregnancy. Female infertility can occur for a variety of causes, and an OB/GYN can assist in identifying and perhaps treating the problem.
Z11.3: Encounter for infectious disease testing with a primarily sexual mode of transmission
According to the CDC, syphilis, gonorrhea, and chlamydia rates have hit all-time highs after four years of growth. Women can receive STD screenings, diagnoses, and treatment from OB/GYNs if they make an appointment and get checked out.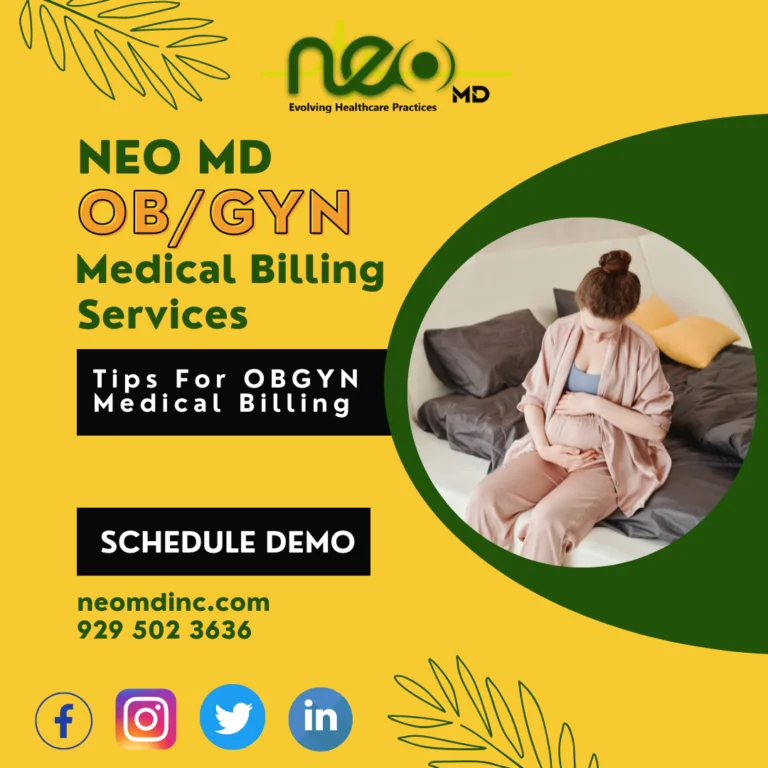 How Does NEO MD OBGYN Medical Billing Services Boost OBGYN Practices Revenue?
NEO MD offers unparalleled OB-GYN medical billing solutions across all 50 states in the US. In order to maintain a smooth process of claims processing, we customize our billing services according to the physician's specific needs. We have more than 10 years of OBGYN Medical Billing experience and unique strategies that stimulated several-trembling revenue cycle management. Furthermore, our Revenue Cycle Management services follow the CMS guidelines regularly.
Further, NEO MD provides the top OBGYN Billings MT Services in terms of cost and performance to support effective cash flow and revenue. We provide obstetrical billing services at a lower price with No Hidden Fees.
NEO MD's Top Solution
Our experts work hard to reduce your front-end denials by 20%.
First level of Claim acceptance rate 95-98%
Provide fortnightly financial and practice overviews.
Out of Network Negotiations.
Offer internal audits to uncover loopholes.
Evolving state-of-the-art medical billing services for small practices
We have consistently increased the collection rate for our clients because of the faster processing of accounts receivable and on-time follow-up.
Provide OBGYN Medical Billing and collection services that are of high quality and error-free.
Let's Schedule a Demo to learn more about how we can improve your medical practice management. Get us at! (info@neomdinc.com) or (929) 502-3636).